A CHILD NEEDS YOU TODAY
Children outnumber available foster homes 40 to 1. The need for foster homes in Bexar County to help children heal from abuse and neglect is at a critical level. If you have thought about being a foster care parent, now is the time to do it.  A foster parent provides love and support to a child in need. Boysville gives you support and training to be successful.
The first priority for children removed from their home is to place them with a loving family. Our foster care and foster to adopt program is licensed to recruit and train families to become foster care parents.  Our directors are TBRI® certified practitioners.  We provide our foster families with wrap-around services, including case management, trauma-informed care training, behavioral management training, therapeutic and recreational services.  We also provide adoption services to help families complete the journey to become parents.
Not All Heroes Wear Capes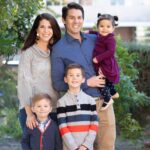 Since she was ten years old, Jaime has loved the idea of foster and adopting a child. After the birth of their two boys, Jamie and Thomas, knew they still had room to grow. Jamie wanted to provide a home but both she and Thomas, were apprehensive that they could be the support system for a child in need. "I always thought you had to be a saint to be a foster parent," said Jaime.
Become a
Foster Care Parent!
If you are interested in becoming a foster parent or in foster to adopt, please fill out the information request form. One of our foster care case managers will contact you. You also call (210) 659-1901 for more information.
If you are ready to apply, please complete the Foster Parent Application below and submit your application to
[email protected].
FOSTER PARENT CRITERIA
To become a foster parent, you must meet the following criteria:
Be enthusiastic and committed to working with children in crisis who need out of home care.
Be a responsible, mature adult of at least 21 years old.
Be physically and emotionally healthy.
Be financially self-sufficient.
Be committed to working with traumatized children.
Have a reliable, registered, and insured automobile.
Pass a criminal history, domestic violence history and abuse database check. All members of the family 14 years and older must submit to a FBI fingerprint screening
Participate in pre-service training, including Orientation, PRIDE (Parent Resource for Information, Development and Education), Behavior Management (SAMA), Psychotropic Medication and CPR/First Aid.
All family members agree to participate in extensive interviews and a comprehensive home assessment.
ZOOMING FOR FOSTERS
FOSTER PARENT ORIENTATIONS ARE OFFERED TWICE A MONTH. ZOOM ORIENTATIONS ARE HELD ON THE SECOND WEDNESDAY OF EACH MONTH AT 5PM AND ON THE SECOND SATURDAY OF EACH MONTH AT 9AM.