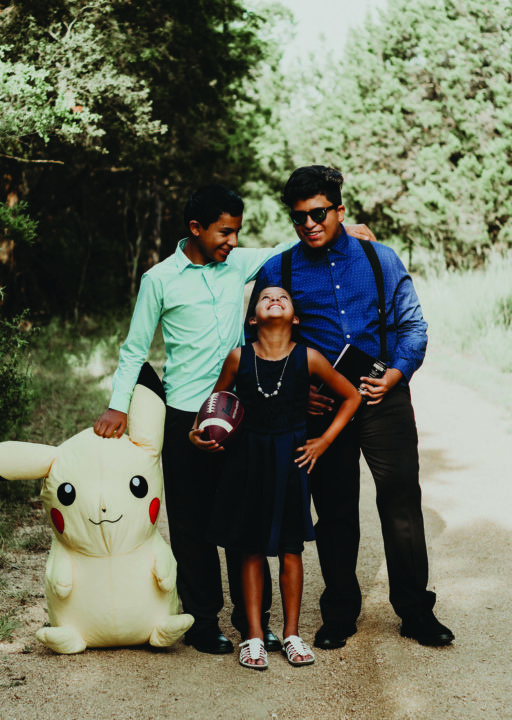 "Originally, we were separated," said Julian. When older sister, Liz came to Boysville, the group's case worker along with their CASA worker began advocating for them to be reunited.
"Their TDFPS caseworker was calling regularly to see if we had room," said Krystal Costello, their Boysville case manager. "She knew they needed each other."
In 2018, they were finally reunited at Boysville.
"They made room for me," said Rebecca, smiling broadly. It was true. Our girl's cottages were full but Rebecca was able to stay in our shelter on campus, close to her brothers and sister, until there was an opening in a girls' cottage.
Once back together, the siblings began to flourish.
Liz, now 20, graduated from high school in 2019 and moved into Boysville's Supervised Independent Living Program. Recently, Liz was able to move into her own apartment in the community.
"Liz leaving was really hard on the kids and Liz," said Krystal. "They were all crying. But she sees them weekly and talks to them often."
Julian, an aspiring chef, is a true renaissance man. The 16-year-old enjoys art, dance, math and biology. His current passion and hobby is painting landscape scenes. He drifts into a stream of consciousness style of speaking when talking about his art. He takes pride in doing well in school. He is also planning to major in accounting in college. Julian transferred to Wagner High School just to be a part of the culinary program.
"I've been cooking since fifth grade," said Julian. "I learned to cook eggs and always made Vincent's and Rebecca's favorite eggs." His newest culinary interest is making cakes.
Vincent, 14, is a shy young man, with a love for art and technology. He wants to combine those skills to become a video game designer. His favorite subject is math and one of his favorite video games is Geometry Dash. His love for his siblings is apparent.
"My brother is my best friend," said Vincent. He is also looking forward to next year when he is an 8th grader and Rebecca will be a 6th grader and in the same school.
Rebecca, the youngest at 9, is definitely the most outgoing one. She, like her brothers, love math. Talkative, smart, funny, and athletic, she has already played flag football and soccer, but her love is basketball. She also likes to collect basketball shoes.
"I want the Steph Curry 4 shoes," said Rebecca, laughing. Rebecca easily slides into the conversation with her brothers and takes over while the boys watch over her.
Both brothers talk about Rebecca and her passion for sports.
"She really likes the Cowboys too," said Julian.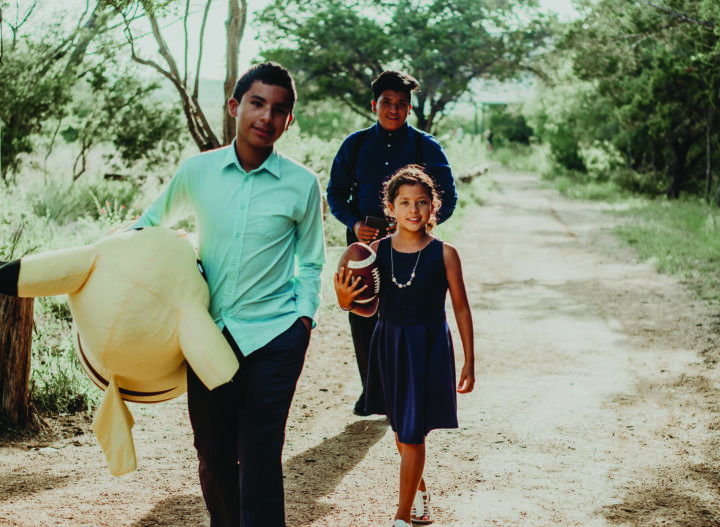 They all have a profound love for their CASA advocate, Ms. Brenda. She has been a constant advocate in their lives from day one. "MS. Brenda is really nice,", said Julian. "She advocates for us. I think I talk to her more than anyone."
Rebecca echoes Julian. "She takes us to movies and makes us homemade cakes for our birthdays. She even brings us lunch at school."
All of the siblings said it was hard to be separated from each other. They are happy to be together at Boysville. They are waiting for their forever family. Rebecca has a list of requirements.
"They should know English and Spanish. Be active. Know how to cook Mexican food. Like dogs" said Rebecca as she rattled off her list. But most importantly, they want to stay together in San Antonio.
Julian agrees.
"We know what it is like to be separated," said Julian. "We are better together. We are a better family together."